Small businesses are often hubs of entrepreneurship, employment and innovation, thereby playing a crucial role in the socio-economic development of any nation. In a much appreciated move, the United Nations (UN) general assembly on recently designated 27 June as Micro, Small and Medium-sized Enterprises (MSME) Day. The General Assembly invited all 193 Member States, organizations of the UN system, other international and regional organizations, as well as civil society, including non-governmental organizations, academia, individuals, to observe the day in accordance with national priorities. 
In Organisation for Economic Co-operation Development (OECD) economies, MSMEs generate a significant proportion of the economic contribution, accounting for over 95 per cent of the firms, 70 per cent of the employment and 55 per cent of the GDP. In emerging economies as well, there is an increasing realization of the vital role of small businesses in generating employment as well as economic growth. Thus, recognizing the need to focus on the importance of MSMEs in achieving the Sustainable Development Goals, in particular by promoting decent work for all, encouraging formalization, capacity building and by providing affordable financial services, becomes essential.

Figure: Sustainable Development Goals aligned with MSMEs (Author's own compilation.)
Source: Niti Aayog, SDG Mapping- Status Draft Report
The Government of India has made significant efforts to support small businesses through the enactment of different policies since 2006. The MSME sector, including Khadi, Village and Coir industries, consists of 51 million units and provides employment to over 117 million persons. The current programmes/schemes administered by the Central and State governments seek to facilitate adequate flow of credit from financial institutions, provide support in technology upgradation, develop entrepreneurship through appropriate training facilities and aim at expanding livelihood opportunities. Along with these, they aim at enhancing the competitiveness of the sector through its immense contributions – about 45 per cent of manufacturing output and 8 per cent of the GDP. In contemporary times, MSMEs can be said to be the real engine of growth with businesses ranging from agarbatti, rugs, fancy items, brass and copper art ware, jewellery, metal ware, holy leaf and fibre, pottery, embroidery, printing of cloth, toys and decoration pieces, wood furniture & fixtures, textile handlooms, retail to services.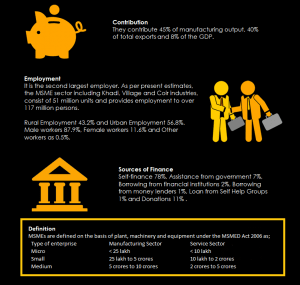 Figure: Snapshot of MSME Landscape in India (Authors own compilation.)
Source: Make in India, MSME Sector-Achievement Report 2017
West Bengal, Uttar Pradesh, Maharashtra, Tamil Nadu and Andhra Pradesh are home to a significant share of MSME enterprises in India, still leaving a huge potential for expansion in other resource/skill rich states. The sector is one of the largest employers, second only to agriculture which employs 53 per cent of the Indian working population, again showcasing its grand scale of activities. An insight into the gender dimensions showcases a male dominant workforce, accounting for 88 per cent of the labour force. Proper policy support is thus required for employment generation, by supporting youth led start-ups, providing equal opportunities to women employment and subsidizing establishment of rural industries.
Currently, 78 per cent enterprises report being self-financed, thus availability
of easy formal credit sources is another possible area of intervention. Credit access can be improved by promoting financial inclusion, making finance affordable and by facilitating formalization of businesses. Capacity building by emphasizing on skill development of marginalized communities, business management training for existing enterprises and support in technology upgradation can be a motivating factor, with financial literacy in India being as low as 20 per cent. Most importantly, improved research and development is of key importance with the global importance MSMEs have gained in 2017. Creation of updated databases and strengthening of research and development techniques collected by civil society is important to be used as foundations of great policy initiatives and in further implementation of the same.
What needs to be done to further strengthen the MSME sector in India?
1.Capacity building- Skill Development, Business management, Technology Upgradation
2.Credit Access –Financial literacy training and inclusion,  Affordable Finance,  Formal institutions
3. Easy market linkages- Showcase competencies, Policy support, Formalization 
4. Employment generation- Support for Youth Start-ups, Women Empowerment, Promoting rural industries
5.Improved R&D– Creation of databases, Strengthening of Research and Development

Figure: Recommendations for MSME sector in India (Authors own compilation.)
It can thus be said that the MSME sector is still one of the untapped high growth segments in India and an essential partner for achieving socio-economic growth.
References 
MSME Sector-Achievement Report 2017. Make in India.
Annual Report 2015-16. Delhi: Ministry of MSME.
SDG Mapping- Status Draft Report, NITI Aayog, New Delhi.
MSME Country Indicators. IFC, World Bank. (2010, August).
MSME Finance in India. International Finance Corporation. (2012).
Recommendations of the Inter-Ministerial Committee for Accelerating Manufacturing, Ministry of MSME, (2013).