Engineering Impactful Partnerships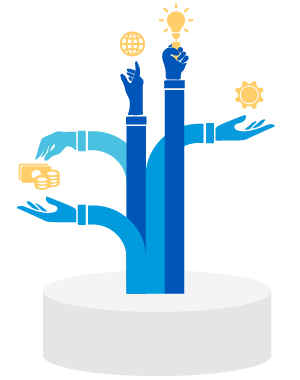 Positive sustainable change can only be achieved when outcomes are jointly created and acceptable by the individuals and organizations that will live and work with their impact. Co-creation is at the heart of our partnership philosophy.
Through a combination of interdisciplinary approaches and relevant partnerships, we leverage collective expertise as well as factor in stakeholder motivations when designing programs and solutions. Addressing real-world problems requires approaching them from varied perspectives and the ability to influence from different vantage points — both of which can only be possible through the right partnerships. And so, we engineer partnerships across a range of 'thinkers' and 'doers' in the development space. Our strategic alliances are with academics, corporations, governments, international organisations and civil society organizations.
Domain Expertise
Deep contextual understanding of the financial and socio-economic well-being of individuals, households and enterprises, and expertise in applying rigorous research methods
Partner Ecosystem
Ability to convene diverse stakeholders and leverage partnerships across policy, industry, academia, and NGOs to find solutions and achieve scale
Operational Strengths
Cutting-edge data collection and management capabilities, with a focus on integrating ICT to collect high-quality data and generate real-time insights
Incubation Capacity
Expertise in creating nimble, multi-partner knowledge hubs and programs to generate evidence, and develop, test and validate solutions
Partnership Opportunities
A few ways in which you can partner with us

Academics and Think Tanks
Jointly pursue rigorous field research to bridge
knowledge gaps, and advance
understanding of topical development issues
using data analytics and field insights

Donors and Policymakers
Assess programmatic impact,
cost-effectiveness, and scalability
Strengthen program strategy, design and
implementation. Improve administrative data
collection, management and application

Industry and Practitioners
Get granular insights into needs and
behaviors of underserved segments, and
apply these to improve early-stage
solutions, products and delivery
mechanisms.

Community-based Organisations
Improve targeting and delivery of
community-based programs, by evaluating
impact of existing programs and
strengthen personnel capacity to harness
the power of data