It was almost three in the afternoon when we arrived at Padma's house in the sleepy village of Katpadi in Tamil Nadu. In a state where 55 percent of women in rural areas don't participate in the labor force, Padma is the only business correspondent (BC) in her village, working for the sole bank in the area. In 2006, the Reserve Bank of India (RBI) passed guidelines that allowed banks to employ third party agents, using decentralized technology to provide banking services in rural and remote areas.
Padma works 12 hours a day, providing localized basic banking services to her immediate community. As a business correspondent, she helps customers open bank accounts, deposit and withdraw cash often linked to government schemes, link Aadhaar IDs with banking accounts, and even pay utility bills.
As part of our CFI Fellowship study on effective human touch in India's digital age, we made a visit to Padma's village to understand her work process as a business correspondent, the challenges she faces in her work, and how she perceives her customers' readiness to move from cash based to digital financial services channels. There are pockets in India of staggering innovation and adoption of digital financial services. But they aren't widespread, and the optimal mix of human touch versus digitized customer experiences remains elusive. Our CFI Fellowship project aims to better understand the barriers impeding digital financial services and how human touch can help to overcome these obstacles and improve client outcomes more broadly.
At Padma's house, we see large groups of mostly old men and women waiting for their turn to withdraw their monthly pension under the Government's Old Age Pension Scheme.
She is armed with technology that enables her to function as a small bank: a micro ATM for users to swipe their debit cards and (users withdraw and deposit via cash BCs have on-hand); a biometric device upon which users can imprint their fingerprints to verify their identity; and an application on her smartphone that helps her maintain real-time record of all transactions. Prior to starting her job, Padma attended a five-day training program where she learned how to use this technology. She was also trained in how to best interact with customers and spread awareness among her community members about the BC model.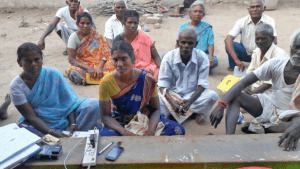 Padma has been working as a business correspondent since 2009. Previously she was the leader of a self-help group associated with the local bank. The group employed the community-based model where women form groups to save money and take loans as groups. Padma completed her studies through grade 10 and is comfortable speaking both Tamil and English. She is also comfortable using a smartphone, and even uses WhatsApp.
Travel is a critical part of being a business correspondent. Padma takes care of approximately 10,000 households across 3 villages and spends 3 days a week travelling to the neighbouring villages she serves. Some days, her husband, who runs a small-scale cigarette manufacturing company in the area, drives her around in their two-wheeler. Padma attends to 100 to 125 customers a day, on average.
For Padma, the primary motivation behind doing this job, its exhausting logistical demands and all, is the social service she provides to her community members. She is aware that she provides an indispensible service. Despite the local bank being located within convenient walking distance from Padma's three villages, customers tend to refrain from using branches or digital services like ATMs and mobile money.
This pattern isn't specific to Katpadi. An IFMR LEAD study investigating the hidden barriers to banking in India found that low income customers were often dissuaded from regularly transacting at banks due to the lack of written materials or policies in their local language and the behavior of bank officials. Respondents indicated that bank officials were at times standoffish as well as bordering on antagonistic: misrepresenting RBI regulation, adding unnecessary KYC requirements, and offering customers products that were not suited to them.
Most of Padma's customers are not highly educated and while they know how to read and write, they tend to be intimidated by transactions at banks or through phones and hence approach her for help. Most of them do not have smartphones and use basic feature phones just to make calls. Many have never used the internet and are unaware of its various uses. This too speaks to a larger trend. As per the Financial inclusion Insights 2015 survey, in India, 45 percent of urban individuals and 51 percent of rural individuals have low levels of digital literacy, meaning they are unable to use their phones beyond the basic call function.
For her customers, Padma is a crucial link between the rapidly digitizing world of formal financial services and the lack of both awareness and digital literacy that restricts them from independently using various digital platforms.
Lack of awareness isn't the only barrier preventing customers from independently using digital financial services in India. They are also curtailed by the poor acceptance infrastructure in their areas.  At Padma's home, a cursory conversation with a waiting customer reveals that they don't use their debit cards to make purchases because retail shops in their villages don't have electronic point of sale (EPoS) machines and only accept cash. According to the Reserve Bank of India, as of August 2016, India has roughly 2 million EPoS terminals, compared to the 15 million retail establishments and 36 million small and medium-sized businesses. One commonly cited reason as to why retailers often avoid using these terminals is because of the high costs attached to installing one (approximately 70-150 USD).
India is in a rapid flurry to digitize financial transactions to promote transparency and efficiency. With the recent demonetization, and the proliferation of digital platforms that enable financial transactions through both smartphones (UPI) and basic phones (USSD), individuals from all income groups are encouraged to reduce their dependence on cash. Yet, with the low levels of digital literacy and education among low income households, there is a danger of vulnerable groups being further marginalized. It is agents like Padma, who operate out of remote areas and provide a human interface to compliment digital financial services, ensuring that no one is left behind.
Through this study we seek to gain in-depth insight into these constraints and understand how through human touch, banking agents can facilitate in bridging the gap between awareness and usage of digital financial services. We also aim to assess the ways in which agents help their customers during different financial processes and understand at which stages their role becomes the most critical and important. Given that India stands on the brink of a digital financial revolution, human touch points could act as a key enabling factor in increasing the uptake and usage of digital financial products and reaching out to the poorest of the poor.
Stay tuned to this blog for more updates and findings as the project progresses.